With 40,000 square feet available, the main floor of the Discovery Building can accommodate up to 1,200 people. Known as the Town Center, the spaces may be reserved to welcome groups of various sizes.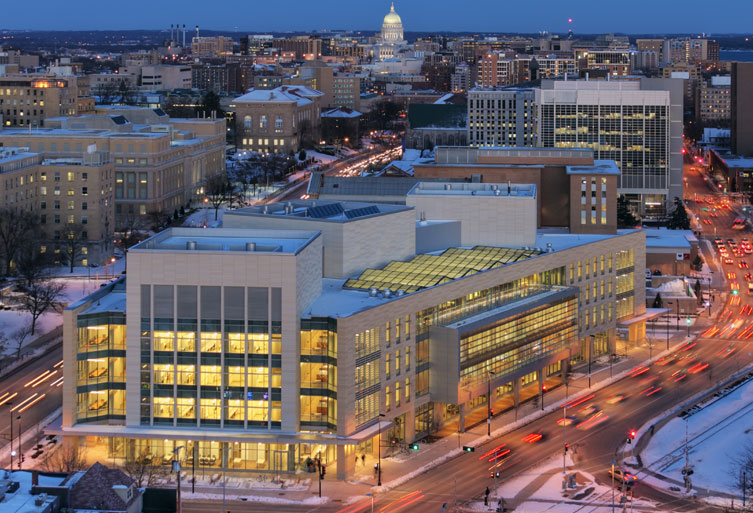 330 N. Orchard St. Madison, WI 53715
Town Center Spaces Feature:
State-of-the-art audiovisual services including projection, sound, live streaming and multimedia capabilities
Onsite dining options and catering
Onsite event staff support
Flexible, functional spaces with customizable setup options
Plants and trees that create a natural ambience
Free WiFi
Town Center floor plan
Click image to see a larger version.
Large Rooms
Town Center spaces provide a welcoming place for lectures, poster sessions, receptions, galas and more. Two large rooms — the H.F. DeLuca Forum on the main floor and the Orchard View Room on the third floor — are suitable for large conferences and lectures.
Small Rooms
Conference rooms on the first and second floors are suitable for group meetings and breakout sessions. The small conference rooms and the boardroom are outfitted with state-of-the-art integrated audiovisual equipment.
Atrium Spaces
The Town Center features a large, open atrium with ample natural light and trees. The open court area on the Campus Drive side of the building features views of the research floors above and can accommodate up to 625 people. The Mesozoic garden view space on the University Avenue side looks on a primeval setting with plants dating to the dinosaur age, geologic artifacts and more.
Lab Spaces
These fully outfitted wet lab spaces are reservable for activities including adult learning, professional development, technology demonstrations and more.
Teaching Labs
UW–Madison Groups Only
Several spaces on the Randall Avenue side of the building may be reserved by groups from UW–Madison only. These spaces include the Entrepreneurs' Resource Clinic and the Mesozoic garden view west area.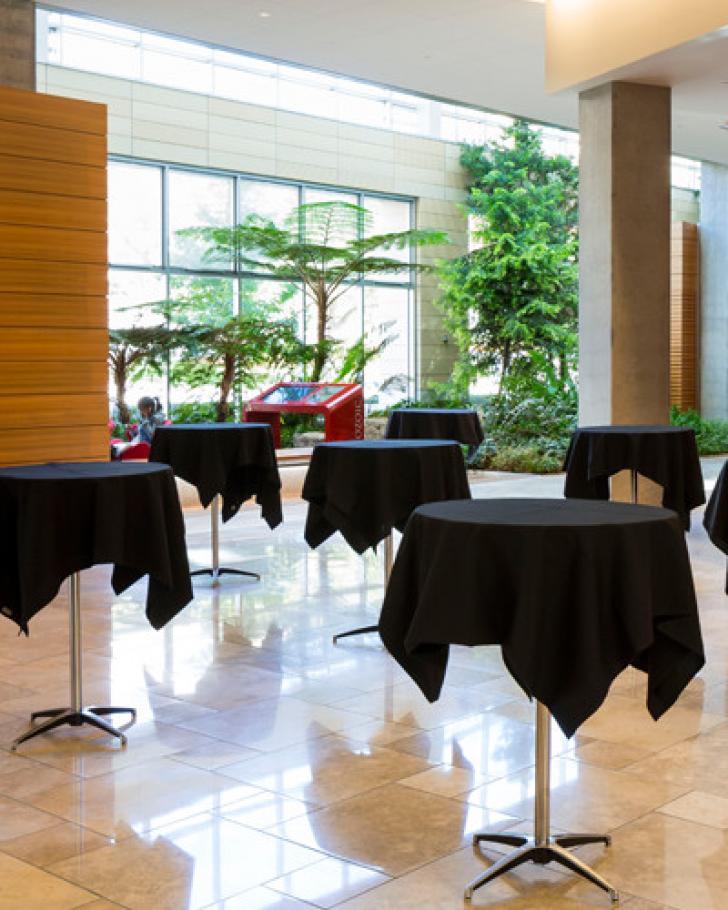 Mesozoic Garden View West
---
Plan Your Event
The Town Center can be divided to accommodate groups of various sizes, with up to 1,200 guests. On-site event and AV staff work with you from planning to executing your event. Spaces are fully customizable and many AV resources are available to support your event.
Contact the WARF Discovery Building Event Team
[email protected]
608.316.4534
Catering
Steenbock's on Orchard, the exclusive onsite restaurant and caterer, provides exceptional customized menus. Their experienced staff coordinate directly with the Town Center event staff to ensure your event is successful.
For more information contact Steenbock's catering sales manager at [email protected] or 608.514.1922.
Capacities & Fees
Custom setups and AV equipment are available to enhance your event.
Review detailed list of AV resources, space capacities and room fee information below.
Policies & Guidelines
To help ensure successful events, the Town Center has helpful policies and guidelines that provide more information on accessing your space, catering, equipment rentals, parking and much more.
Parking & Transportation
Although onsite parking is not available at the Discovery Building, there are three University of Wisconsin-managed lots (17, 20 and 80) nearby. To learn more about parking options, reserving parking passes and more, please work directly with UW–Madison Transportation Services. The Discovery Building is located near several city of Madison Metro Transit bus stops and UW-Madison bicycle routes.