A free entrepreneurship program for women and people of color
Fall 2023/Cohort 20 application period is CLOSED
The next application period will open up in November 2023
---
Why UpStart?
It takes more than a good idea to start a successful business. Issues like accounting, financing and marketing may seem overwhelming and connecting with the right resources can be challenging. WARF's free UpStart program can help.
UpStart:
Connects you with area professionals and other aspiring entrepreneurs
Helps you gain the skills you need to launch your business
Works with you to establish strategic goals and identify next steps
Eligibility Requirements
Applicants should reside in or near Madison, WI and surrounding communities
Business ideas should be considered a legal business in Wisconsin
Applicants should self-identify as a woman and/or person of color
Applicants should be supportive of an inclusive learning environment
---
Whatever your background, UpStart welcomes you
People with interests ranging from farming to real estate, personal services, mobile apps and more have benefited from WARF's UpStart program.
Each cohort includes motivated individuals from diverse professional and educational backgrounds. Participants with GEDs to Ph.Ds learn from each other and share their own ideas and experiences.
Questions?
Contact us at [email protected] or 608.960.9817.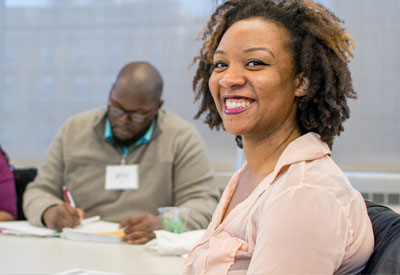 Fall 2023 Class Information
Building Community
The UpStart community is always growing. Current participants and graduates come together several times a year to connect and network, including an annual celebration dinner, allowing students to engage with each other, alumni of the program as well as instructors and other partners.
Graduates reap the benefits of the program's strong reputation in the Madison entrepreneurial community and can leverage relationships to start or expand their businesses.


See class schedule example

---
"The blend of robust resources and knowledgeable guest speakers was invaluable. I would highly recommend UpStart to anyone looking to turn an awesome business idea into an authentic business plan."

  – Roxie Hentz, UpStart participant
---
UPSTART ALUMNI
Jasmine Banks talks about her business –
Perfect Imperfections
and how UpStart helped her launch and grow.
Manuel Altúzar talks about his business –
Globaltranz Consulting
and how UpStart provided support to help him expand his reach.
UpStart alumni launch and scale businesses ranging from food businesses to body products to software platforms. Supporting their efforts contributes to a more diverse and resilient entrepreneurial ecosystem.
VIEW UPSTART ALUMNI BUSINESSES
---
Partner with UpStart
We invite local groups to partner with UpStart to help your community and foster new business.
Current Partners
Interested in supporting entrepreneurship?
Contact us at [email protected] or 608.960.9850 for information about becoming a partner.