A free entrepreneurship program for women and people of color
UPCOMING UPSTART SESSIONS
UpStart hopes to be back in fall 2021, with our traditional curriculum.
Sign up to be notified when the application period opens.
---
Whatever your background, UpStart welcomes you
People with interests ranging from farming to real estate, personal services, mobile apps and more have benefited from WARF's UpStart program.
Each cohort includes motivated individuals from diverse professional and educational backgrounds. Participants with GEDs to Ph.Ds learn from each other and share their own ideas and experiences.
Questions?
Contact us at [email protected] or 608.960.9817.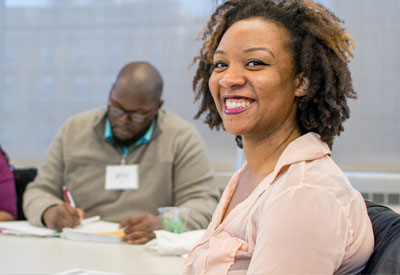 Why UpStart?
It takes more than a good idea to start a successful business. Issues like accounting, financing and marketing may seem overwhelming and connecting with the right resources can be challenging. WARF's free UpStart program can help.
UpStart:
Connects you with area professionals and other aspiring entrepreneurs
Helps you gain the skills you need to launch your business
Works with you to establish strategic goals and identify next steps
Eligibility Requirements
Applicants should reside in or near Madison, WI and surrounding communities
Business ideas should be considered a legal business in Wisconsin
Applicants should self-identify as a woman and/or person of color
Applicants should be supportive of an inclusive learning environment
---
"The blend of robust resources and knowledgeable guest speakers was invaluable. I would highly recommend UpStart to anyone looking to turn an awesome business idea into an authentic business plan."

  – Roxie Hentz, UpStart participant
---
Upstart Extras
For 2020, in light of the constantly changing environment surrounding COVID-19, we are offering pivoted to offer UpStart Extras – a virtual eight-part series of classes with timely and valuable topics to help entrepreneurs explore starting new ventures or re-imagine existing businesses as a result of these evolving times.

---
Partner with UpStart
We invite local groups to partner with UpStart to help your community and foster new business.
Current Partners
Interested in supporting entrepreneurship?
Contact us at [email protected] or 608.960.9850 for information about becoming a partner.