Recognizing High Potential Disclosures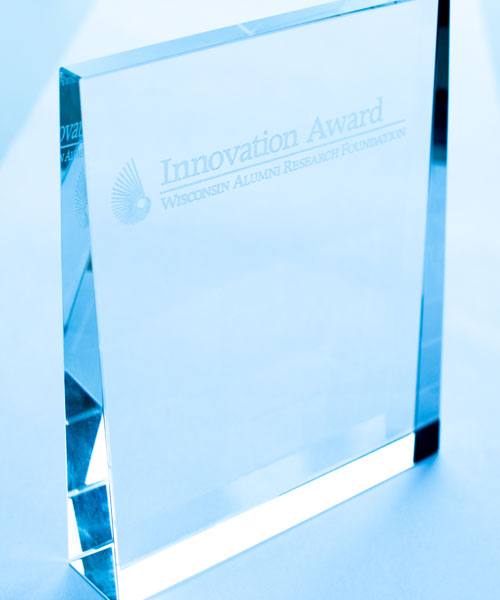 Each fall the WARF Innovation Awards recognize some of the best inventions at UW-Madison.
WARF receives hundreds of new invention disclosures each year. Of these disclosures, the WARF Innovation Award finalists are considered exceptional in the following criteria:
Criteria
Has potential for high long-term impact
Presents an exciting solution to a known important problem
Could produce broad benefits for humankind
Each of the two Innovation Award winners receive $10,000, split among UW inventors.
Be among the first to see the 2023 winners, revealed in our annual holiday greeting video!
Sign up for the WARF Holiday Greeting
---
2023 WARF Innovation Award Finalists
Protein Has Potential to Promote Heart Tissue Renewal and Regeneration | Watch Video
Ahmed Mahmoud (Cell and Regenerative Biology)
Timothy Kamp (Cardiology)
Youngsook Lee (Cell and Regenerative Biology)
New Therapeutic for Glioblastoma, the Most Lethal Form of Brain Cancer | Watch Video
Mahua Dey (Neurological Surgery)
Jacques Galipeau (Hematology-Oncology)
Eavesdropping on Insects to Better Protect Crops from Infestations | Watch Video
Novel Alloy Better Protects Jets at High Speeds, Temperature | Watch Video
Dan Thoma (Materials Science and Engineering)
Michael Niezgoda (Materials Science and Engineering)
Enhanced Valley Splitting in Silicon-Based Quantum Hardware | Watch Video
Mark Friesen (Physics)
Benjamin Woods (Physics)
Mark Eriksson (Physics)
Robert Joynt (Physics)
Synthetic Peptide Could Lead to Powerful New Drug to Treat Type 2 Diabetes, Obesity
Samuel Gellman (Chemistry)
Kyle Brown (Chemistry)
Rylie Morris (Chemistry)
---
2022 WARF Innovation Award Finalists
Innovative New Diagnostic Test for Sjögren's Syndrome | Watch Video
Sara McCoy (Medicine)
Miriam Shelef (Medicine)
Michael Newton (Biostatistics & Medical Informatics)
Zihao Zheng (Statistics)
Making Telecommunications More Affordable | Watch Video
Victor Brar (Physics)
Seyoon Kim (Physics)
Testing the Strength of Soft Materials | Watch Video
Melih Eriten (Mechanical Engineering)
Corinne Henak (Mechanical Engineering)
Supercharging Photosynthesis to Increase Carbon Storage, Aromatics Production | Watch Video
Hiroshi Maeda (Botany)
Ryo Yokoyama (Botany)
Marcos Vinicius Viana de Oliveira (Botany)
New, Lightweight Material to Protect Against Bullets and Other High-Speed Impacts | Watch Video
Ramathasan Thevamaran (Engineering Physics)
Jizhe Cai (Engineering Physics)
Detecting High Cholesterol in Kids to Prevent Future Cardiac Disease | Watch Video
Mei Baker (Pediatrics)
Brian Conti (Wisconsin State Laboratory of Hygiene)
---
2021 WARF Innovation Award Finalists
Terahertz Imaging System for Global Security | Watch Video
Jiamian Hu (Materials Science & Engineering)
Shihao Zhuang (Materials Science & Engineering)
Making Spectroscopy Accessible to All | Watch Video
Mikhail Kats (Electrical & Computer Engineering)
Yuzhe Xiao (Electrical & Computer Engineering)
Chenghao Wan (Electrical & Computer Engineering)
Jad Salman (Electrical & Computer Engineering)
Green Synthesis of Bio-Based Polyurethanes and Polyesters | Watch Video
George Huber (Chemical & Biological Engineering)
Hochan Chang (Chemical & Biological Engineering)
James Dumesic (Chemical & Biological Engineering)
Enhanced Probiotic Delivery to Treat Intestinal Disorder | Watch Video
Quanyin Hu (School of Pharmacy)
Jun Liu (School of Pharmacy)
Indoor Sound Shaping Based on Broadband Metamaterial Reflector | Watch Video
Chu Ma (Electrical & Computer Engineering)
Nanoparticle to Render Tumors More Susceptible to Treatment | Watch Video
Shaoqin Gong (Biomedical Engineering)
Zachary Morris (Human Oncology)
Ying Zhang (Biomedical Engineering)
Raghava Sriramaneni (Human Oncology)
---
View the recorded Innovation Award event
2020 WARF Innovation Award Finalists
Bridging Biology and Electronics for "Hybrid" Biosensing | Watch Video
Bhuvana Krishnaswamy (Electrical & Computer Engineering)
Megan McClean (Biomedical Engineering)
High-Energy Plasma Generator for Medical Isotope Production, Nuclear Waste Disposal & Power Generation | Watch Video
Cary Forest (Physics)
Jay Anderson (Physics)
John Wallace (Physics)
Robert Harvey (CompX)
Yuri Petrov (CompX)
Killer Combination: Multicell Conjugates for Activating Antigen-Specific T Cell Responses | Watch Video
Jenny Gumperz (Medical Microbiology & Immunology)
Dana Baiu (Medical Microbiology & Immunology)
Superior Neural Tissue Models for Disease Modeling, Drug Development and More | Watch Video
Randolph Ashton (Biomedical Engineering)
Gavin Knight (Biomedical Engineering)
Benjamin Knudsen (Biomedical Engineering)
Nisha Iyer (Biomedical Engineering)
Carlos Marti-Figueroa (Biomedical Engineering)
First Molecular Sleep Test Based on Epigenetic Discovery | Watch Video
David Plante (Psychiatry)
Reid Alisch (Neurological Surgery)
Carbon Dioxide Capture and Sequestration Using Alkaline Industrial Wastes | Watch Video
Bu Wang (Civil & Environmental Engineering)
Raghavendra Ragipani (Civil & Environmental Engineering)
---
---
View News Releases on previous finalist and winning technologies
2020 WARF Innovation Awards News Release
2019 WARF Innovation Awards News Release
2018 WARF Innovation Awards News Release