HELP US ADVANCE TECHNOLOGY TOWARD POSITIVE IMPACT
Advancing UW-Madison technologies to benefit the world requires strong connections with the university, industry, investors, alumni, startups and community members.
Whether you're a UW-Madison alumnus, a successful entrepreneur or investor or have a passion for advancing technologies to market; there are opportunities for you to engage with WARF. We look forward to speaking with you.
Get Tech Updates
Be the first to know about WARF'S emerging technologies and customize your alerts by category.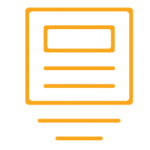 Receive News on WARF Initiatives
WARF Accelerator
WARF Therapeutics
WARF Ventures
Share Your Expertise Profile
Tell us all about yourself and your areas of interest in partnering with WARF.
---
Other Ways to Engage with WARF
Share Your Expertise
Receive WARF Technology Updates
Get Involved at Discovery
---
If there are ways that you're hoping to partner with WARF and you don't see them listed here, email us at [email protected] to share your idea.