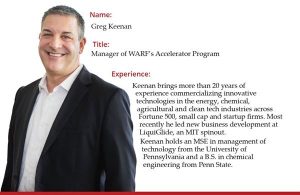 Greg Keenan took the reins of the Accelerator Program late last summer. He sits down to talk opportunities, challenges and the vital lesson he learned growing up in Pittsburgh.
WARF: You've made a career at the intersection of tech and business. What put Wisconsin on your radar?
GK: I came here 12 years ago to join Virent Inc., a UW–Madison spinout with WARF intellectual property. That was my introduction to WARF and tech transfer at UW.
The company was focused on commercializing bio-based fuels and chemicals. We were a small startup at the time but saw significant growth over the six years I was there. In addition to attracting substantial venture capital investments and several strategic industry partnerships, we also brought in a number of high paying jobs to the east side of Madison. To see that area grow and develop as our business grew was very exciting.
W: What did you learn building a startup?
GK: One of the biggest challenges was embracing the pace, the speed, making decisions quickly. You have to accept you may make a mistake, may fail. But if you learn from the experience, and quickly adapt, it is not really a failure. Successful entrepreneurs realize failure is part of the journey-– most have had a number of failures before hitting on success.
W: You moved on to head business development at Penford Products, a publicly traded ingredient producer in Cedar Rapids. Big change of scene?
GK: It was an interesting career move for me because it gave me the opportunity to start a number of strategic new businesses for the company – everything from personal care to oil and gas. From a social aspect, it was great to work for a company that was over 100 years old, a major employer in Cedar Rapids that was struggling to find its way in new markets. To join a company and position it to survive for the next 100 years was very exciting.
W: Now you lead the Accelerator Program as it reaches a milestone: almost 100 projects and 29 commercial agreements to date.
GK: I'm passionate about getting new technologies commercialized and having a positive impact on Madison and the state of Wisconsin, which is our adopted home now.
We've got a world-class institute here at UW, a wonderful state, resources and strong communities – all the components to keep driving Wisconsin forward.
W: Where does the Accelerator Program fit in?
GK: I hope I can build on AP's strong foundation and take it to the next level by making it a more integral part of a larger ecosystem, which includes our new venture activities. I envision a one-stop shop for moving a technology out of the lab, getting it prototyped, supporting customer validation, marketing it to industry, and licensing it or forming a startup around it and getting it funded.
I fundamentally buy into the vision that Madison can be the third or fourth hub of entrepreneurial activity in the country. One of the reasons I am excited about this opportunity is I can help build that. It's not going to be easy. But we have great technology, a fantastic University, strong local support and tremendous alumni. We have all the right pieces to make it better. And to make it a leader.
W: Can WARF play a role in economic development?
GK: While not our primary objective, economic development is one of the natural benefits of successful technology transfer and licensing. That can be through the creation of new local startups and growth of established businesses that benefit from UW technologies, as well as the relocation of companies here.
Even though I grew up in Pennsylvania and went to Penn State, the Wisconsin Idea resonates with me. It's very simple and compelling, and hard not to embrace being part of it.
W: What makes you gravitate to innovation?
GK: You know, I grew up in Pittsburgh. In the 1970s and 80s Pittsburgh was losing a lot of manufacturing jobs because the steel industry and city weren't changing fast enough. That has been something that has stuck with me since I was a kid. To be a successful business, to last a decade or 100 years, you have to be nimble and learn to adapt. It is the reality of business. If you are not innovating or changing you are going to die.
W: You have a chemical engineering background. Is that your tech sector of choice?
GK: My chemical engineering background gives me a strong technical foundation that can be broadly applied across a number of sectors. I am excited to work on technologies that have the potential to make a big global impact. The four basic human needs are food, clean water, energy, and materials for clothing and shelter. Innovation in each of these areas is vitally important if we are going to sustainably support a world rapidly approaching eight billion people that all desire a better standard of living.
W: What is your message to UW–Madison researchers?
GK: We're here to help you commercialize your technology and make a difference. Whether that is through licensing to an existing business or helping you start your own company. At the end of the day, we want to see your technology out in the real world, solving our toughest problems.
Finally, I would encourage researchers to contact me if they want to learn more about the Accelerator Program. I would love to learn about your research and discuss ways we can work together to commercialize your technology.