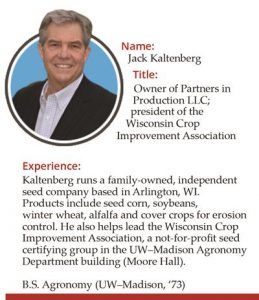 Seedsman Jack Kaltenberg has spent a lifetime in agriculture. The farm is going high-tech, he says. That means better, not bigger.
WARF: How did you become involved with WARF?
JK: Being president of the Wisconsin Crop Improvement Association, I got involved in the release of germplasm – predominantly small grains. WCIA has become the release mechanism for varieties coming out of UW–Madison and that got me involved with WARF.
W: So it wasn't a tough sell to make you a Catalyst?
JK: I'm a pretty loyal Madison alum and I believe in the Wisconsin Idea. My grandfather went to [the Farm & Industry] Short Course in 1906. He started a company from a product he got from the Agronomy Department, and our family has been involved in that mechanism forever. So yes, it was a pretty easy sell and just made sense.
W: Service and the Wisconsin Idea – how do you bring those concepts into your role with the Accelerator Program?
JK: Some of our constituents and farmers – and I see them all the time – don't always see the connection with the University. There is such a great connection. But they don't have a lot of exposure. So when we have inventions and have research with benefit to society, we have to take that to the marketplace. We have to explain the value so that we get, if nothing else, the moral support from our population as to the value the University brings.
W: How do we communicate that better?
JK: In the marketplace there are probably 1 or 2 percent who are farming – that's my customer base. We work with some organic, we work with some Amish, we work with some Mennonites – their life is not as confusing from the communications side as some of our large farmers. And when I want to take science to those guys, they understand that. They understand sustainability and why we crop rotate, why we use resistance to take care of diseases – all those things that plant breeding develops around good sound management.
In agriculture, we know the smartphone was adopted more quickly by farmers than much of society because it is such a fast answer to what we are doing. Larger farming operations communicate more through traditional and social media.
W: How long have you been around farming?
JK: My whole life. When my parents let me out of the front gate and I could be out in the farmyard.
I'm originally from Waunakee. If you are in the top of the WARF building and look straight across the lake you can almost see the farm I was born and raised at. That's Westport, straight across Lake Mendota.
W: Then let me ask you, what is the future of agribusiness?
JK: In agriculture we are really struggling because we are seeing record low commodity prices. So we are always looking for ways to be more efficient. That is forcing us to look at things like sustainability, crop rotation, cover crops and water quality. It doesn't mean getting bigger. It means getting better. There is a lot of science that goes into that.
For example, in dairying, for a while larger was better. But there has become an opportunity for robotics to help a family farm achieve work/life balance. With robotics and computers now, we are transferring labor into technology.
W: And farmers are getting older.
JK: That is indeed a big problem: getting young people enthusiastic and believing that they can have a lifestyle, reasonable work hours and time for vacation. Farm people have never been opposed to working hard, but you need a return on your time too. In farming, you have hundreds of thousands of dollars of farming equipment you use for 35 days a year. The huge capital cost is the dilemma for younger farmers.
But I've also seen a lot more women now in agriculture and in dairy science. There is a lot of equality – we probably do better than other fields. Not only in graduates but in farming operation. The role of manager in the field is shared in a lot of farm families.
Also, if one of the family members works off of the farm, they can provide insurance, which greatly reduces their health care costs. A number of people around Madison are doing this; the spouse works in town to take care of those costs.
W: What Accelerator project has resonated with you?
JK: There has been work done on white mold resistance in soybeans. That research was 15 years [in the making] at least. It was carried on through two professors. I'm excited because I'm a little seed company. The large seed companies were never able to find resistance to white mold at the level that was found at the University. If that can capture some royalties and come back to the inventors and the University, that is phenomenal.
W: What's up next for you?
JK: I was in the UW Marching Band when [director] Mike Leckrone first came. That was fifty years ago. I'm trying to get in shape so when I get to go onto the field with the band alumni in a few weeks I don't die!