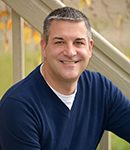 As I write this column, the UW marching band can be heard practicing outside WARF. That means fall and another football season are just around the corner. However, this season marks a significant change – with the retirement of Mike Leckrone, this will be the first time in 50 years that the UW marching band is under new leadership. This fall is also a time of change for WARF with the retirement of our Chief Technology Commercialization Officer, Leigh Cagan.
Leigh brought his extensive technology commercialization experience to WARF in 2010 as the head of our technology commercialization group. Under his leadership, the WARF commercialization team has generated over $358 million in revenue and executed 638+ revenue-generating agreements. Leigh's vision and leadership also led to the creation of several innovative programs that support the commercialization of university technologies.
As a result of Leigh's belief that the changing nature of technology transfer required new approaches, he significantly expanded and institutionalized WARF Accelerator as a way to provide critical commercialization support for promising UW-Madison technologies in the form of expert mentoring and funding. During his tenure, WARF Accelerator invested in 112 technologies, supported 120 university investigators, engaged more than 50 Catalysts, generated 35 commercial agreements and produced 14 startups. In addition, the technologies that have received Accelerator investment have gone on to secure $85 million in follow-on funding, representing $6.50 of external investment for every $1.00 of Accelerator support.
Just as Mike Leckrone has left his indelible mark on the UW band, Leigh has left his indelible mark on WARF, leaving behind an outstanding licensing team and world-class innovation support programs like Accelerator, which will ensure WARF's continued success in the advancement of UW-Madison technologies to market. Without a doubt, WARF is a stronger institution because of Leigh.
Thanks to Leigh for all of his contributions to WARF and the Accelerator! We wish him all the best in his retirement and look forward to working with him in a new capacity – as an Accelerator Catalyst!
On, Wisconsin!