5.11.18 | Daily Jefferson County Union | Diane Graff | Original Publication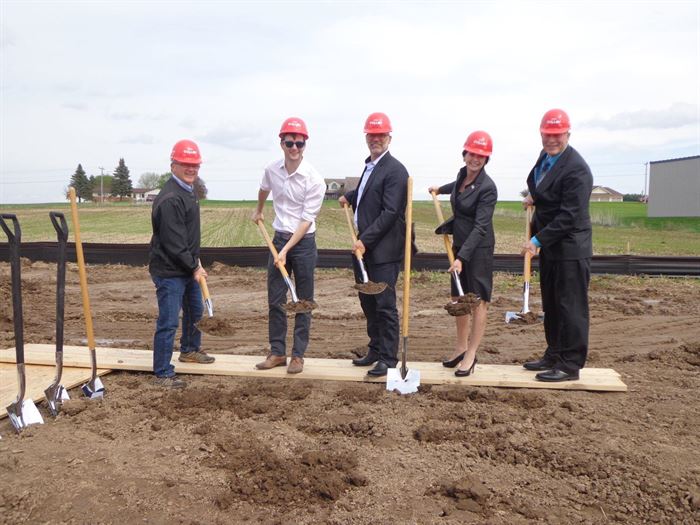 WATERLOO — "The future of Ab E is the future of Wisconsin," state Lt. Gov. Rebecca Kleefisch told about 75 people at Thursday's groundbreaking for the new headquarters and industrial plant of Ab E Manufacturing in Waterloo.
"Today is a big deal; it is newsworthy," Kleefisch said. "We will see 25,000 square feet of excitement."
The Madison-based company, Ab E Discovery, is constructing Ab E Manufacturing, a $3.5 million project on 15 acres of land in the city's industrial park. The company will be known as HIEP LLC (Hyper Immunized Ag Processing). Ab E Manufacturing is Ab E Discovery's commercial production path, focused on process development and manufacturing of early stage bio-functional feed ingredients.
Ab E Discovery has proposed to further develop and bring to market an egg antibody focused on supporting the gut health, and thereby growth and welfare of animals.
The manufacturing process involves egg handling, drying and processing, encapsulation, pasteurization and packaging. This technology, when fully developed, will focus on the natural ability of hens to pass antibodies to their offspring through eggs. Adding egg proteins to the diets of young birds passes on antibodies to improve gut health. A healthy gut can decrease susceptibility to certain pathogens, which are known to cause coccidiosis.
Ab E Discovery was founded in 2015 to commercialize entrepreneurial science. This facility, which will serve as the headquarters and production facility of subsidiary Ab E Manufacturing, plans to employ between 20 to 50 production scientists and engineers.
Eric Salm, president of Ab E Manufacturing and COO of Ab E Discovery, thanked those who attended the groundbreaking ceremony and noted how it took a community to make the plant a reality.
The manufacturing plant will focus on process development and manufacturing of early stage bio-functional feed ingredients.
The goal of the company, located between Madison and Milwaukee, is to accelerate market entry for entrepreneurial scientists and their discoveries.
The company recently announced a new global in-licensing agreement with Elanco Animal Health, a division of Eli Lilly and Company, to further develop and bring the technology to market.
The company works closely with the University of Wisconsin-Madison. Erik Iverson, managing director of the Wisconsin Alumni Research Foundation (WARF) also addressed those attending the groundbreaking ceremony.
"I am proud to share this moment with you," Iverson said.
He noted that Ab E Discovery was founded in the lab of the late Mark Cook. His research and entrepreneurial activity made him a leader in commercializing breakthrough discoveries.
Cook approached Chris Salm, CEO of Ab E Discovery, to contribute his industry knowledge and expertise to the creation of the company with the first product, Cosabody. It is technology designed to support an animal's natural immune response and provide a simple, alternative to antibiotic usage in animal agricultural.
In its inaugural year, WARF selected Ab E Discovery for funding, Iverson said.
"Chris has contributed his experience to guide research. Industry and academia need each other," he said. "When you put it together, who knows what great things will happen.
"This represents the cutting edge in Wisconsin agriculture," Iverson added.
The plant will bring the research from UW scientists to the industry and will be used by state farmers, Keith Ripp, assistant deputy secretary of the Department of Agriculture and Trade and Consumer Protection (DATCP) said.
"This will make a significant contribution to the state and the agricultural industry, Ripp said.
He noted that it was very fitting that Ab E Manufacturing selected Waterloo in Jefferson County. as about 64 percent of the county's land is in agriculture.
After the ceremony, Victoria Pratt, president of THRIVE, the Jefferson/Dodge County Economic Development Partnership, said it was a great day for the county.
"It was one of the easiest site-selection processes we worked on," she said.
The process leading up to the Waterloo development agreement started in February of 2017, when Ab E Manufacturing contacted the Jefferson County Economic Development Consortium (JCEDC) and Glacial Heritage Development Partnership (GHDP) for assistance in locating possible sites for the facility.
"Once we got them (the company officials) out here to the site, they loved it," Pratt said. "It is wonderful to get a headquarters and a production facility here."
Several city officials, including Mayor Robert Thompson, alderpersons, city clerk/treasurer, and county board representative Richard Jones, were on hand at the groundbreaking.