CONTACT:
Jeanan Yasiri Moe, Director of Strategic Communications
[email protected] | 608.960.9892
---
From precision agriculture to empowering citizen-scientists in the Fox Valley, ideas "collided" at WARF's All-Hands Meeting held April 25 at the Discovery Building.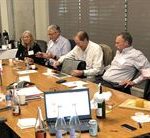 The annual gathering is the signature event of WARF Accelerator. It is an opportunity for campus researchers to connect with industry advisors known as 'Catalysts.' These include executives of Fortune 500 companies, R&D directors, venture capitalists and WARF trustees Peter Tong, Gordon Brunner and David Smukowski.
Projects ran the spectrum from new proposals to pilot studies and prototypes.
Two WiSys projects were locally inspired. From Eau Claire, where frac sand mining is a major industry, Prof. Jim Boulter described a new instrument for monitoring dangerous airborne silica. From Green Bay, Prof. Mike Zorn unveiled a Smartphone-based tool that anyone – middle schoolers to senior citizens – could use to test water quality.
Since its launch in 2009, WARF Accelerator has helped inventors advance commercially promising technologies closer to the marketplace. Through targeted funding and mentorship, the program has to date produced 33 commercial agreements, 13 startups and $6.5 of follow-on funding for every dollar invested.