9.6.18 | Morgridge News | Courtni Kopietz | Original Publication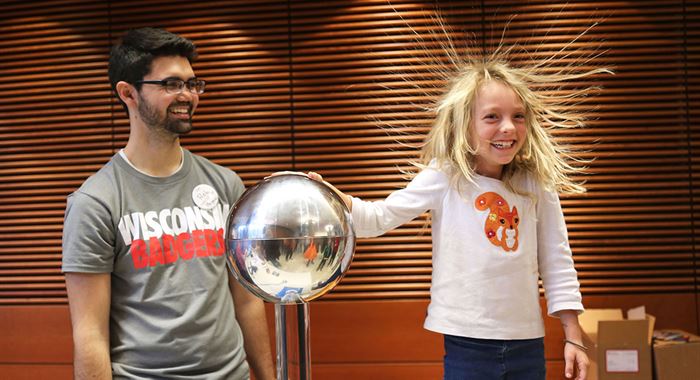 From food science and viruses to data visualization and climate change, there's something for everyone at the 2018 Wisconsin Science Festival (WSF), held this year from Oct. 11-14.
Now in its eighth year, the science festival continues to grow. Nearly 100 unique venues are hosting activities statewide, with half the counties in Wisconsin represented.
In Madison, the signature events kick off Thursday, Oct. 11, with "Big Ideas for Busy People: Contagion!" edition. The Big Ideas event involves high-energy, 5-minute flash talks, and a ringing gong that calls out anyone who goes over the allotted time. This year, infectious disease experts set the stage for an interactive exploration of the future of viruses, bacteria, antibiotics and vaccines.
Laura Heisler, director of the festival and programming for the Wisconsin Alumni Research Foundation and the Morgridge Institute for Research, says the festival is the perfect venue to tackle the big issues of our day, especially the controversial ones—like vaccines and antibiotic resistance—that affect us all.
"In our fast-paced format we're covering everything from trends in vaccination to looking at a disease from the perspective of the offending bacteria," says Heisler. "There will be group engagement in addition to the talks, introducing a bit of whimsy into a challenging conversation to get everyone involved."
Madison's Friday night hallmark event is taking science into the community with "Science on the Square" Oct. 12. Dozens of venues on the capitol square in downtown Madison—including museums, pubs, stores and restaurants—will host informal science talks, demonstrations or hands-on activities.
"The capitol square is really vibrant, and we want to take science to where the people are," Heisler says. "The festival isn't just activities in a science center, it's out and about in the community. We're adding a little science to places people are already visiting for fun and engagement, hoping to spark curiosity."
"The festival isn't just activities in a science center, it's out and about in the community."

Laura Heisler
For example, Parthenon Gyros will explore astronomy and offer rooftop star gazing while Fromagination delves into the science of cheesemaking. The Madison Children's Museum, the event headquarters that will host a variety of hands-on activities, will kick off the night with a juggling demonstration that examines the human movement and physics the activity requires.
Whether or not you make it to an official science festival event, people of all ages can contribute to a project on data visualization, "What Color Is: Data stored in stacks of color," from anywhere in the state. Participants answer questions about how they think about colors to build their personal color block stack. Some questions are concrete like "what color are your eyes?" while others are more abstract; for example, which color represents friendship or hope or justice? Everyone will answer the same questions in the same order, so it will be possible to identify trends or commonalities across groups.
Karen Schloss, a UW-Madison faculty member and one of the researchers working on the project, says the activity is an opportunity to learn about concepts like data visualization in an accessible way.
"I love how the Wisconsin Science Festival gets people so engaged in science by learning and by exploring and discovering," Schloss says. "I think [this project] is a great example of that, where you take something that kids do at home—they build with bricks and Legos—and then imbue it with science. Now these little bricks become meaningful in a really rich way they probably weren't before."
The color block stacks art and data display will be in the Discovery Building during the festival. Those elsewhere in the state can participate by answering the same questions and building their own stacks of color.
Many activities will be held in the Discovery Building at 330 North Orchard Street and across the UW-Madison campus, with other events taking place elsewhere in Madison and in communities statewide.
Highlighted events include:
Infectious disease experts set the stage for this interactive exploration of the future of viruses, bacteria, antibiotics and vaccines. This year's episode turns a microscope on microbes—specifically, infectious diseases. What do we have to fear, what can we expect and what can we do to keep the tiny bugs at bay? Come prepared for a highly interactive event and stay after the talks to learn more, get your hands wet and see for yourself the creatures that are on, in and around us.
Details: Thursday, Oct. 11, 7 – 9 p.m. in the Discovery Building.
The human population has tripled in less than 70 years – from 2.5 billion in 1950 to more than 7.5 billion now – and our expanding presence and aspirations are profoundly changing the land, seas, and atmosphere of our planet. What does that mean? Dennis Dimick, former environment editor for National Geographic, will open the session with a provocative visual exploration of this new human age, and then join other experts to explore the scale and implications of humanity's impact on earth and its systems.
Details: Friday, Oct. 12, 2 – 3:30 p.m. in the Discovery Building.
This Friday night bash will take place on the capitol square in downtown Madison. Dozens of venues—museums, pubs, restaurants, stores— will host informal science talks or demonstrations, tastings, star gazing, hands-on activities and more. Look for the orange lights and balloons to find science fest events. Participating venues include Madison Children's Museum, Fromagination, Square Wine, Parthenon Gyros, the Wisconsin Historical Museum and more.
Details: Friday, Oct. 12, 6 – 9 p.m. on the capitol square, downtown Madison.
Are oysters really an aphrodisiac? Can you hack your taste buds? When did carrots become orange? In this special live performance of the podcast Gastropod, co-hosts Cynthia Graber and Nicola Twilley will serve up a three-course feast for your eyes and ears. From live experiments to interactive tastings, the evening at the Discovery Building will combine special guests and field recordings to reveal the history and science behind the food we eat every day.
Details: Saturday, Oct. 13, 8 – 9:30 p.m. in the Discovery Building.
Check the Wisconsin Science Festival website for more detailed information about the full festival schedule for Madison and statewide events.