CONTACT:
Jeanan Yasiri Moe
Director of Strategic Communications
[email protected]
608.890.1491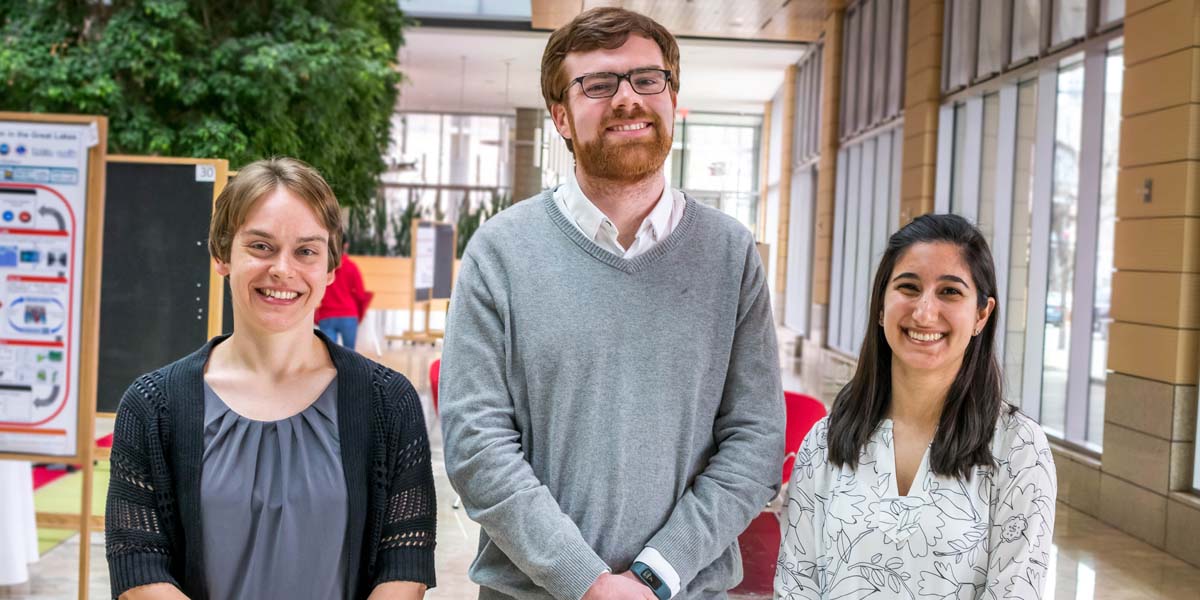 MADISON, Wis. – An approach for improving insulin secretion in mutant animals, more industry-relevant conditions for engineering studies and an in-depth look at protein folding have won Discovery Challenge Awards from the Wisconsin Alumni Research Foundation (WARF).
The sixth annual Discovery Challenge is a research competition open to UW–Madison graduate students and postdoctoral researchers from all departments. The goal of the competition is to promote cross-disciplinary collaboration.
The event featured a poster session and almost 60 presenters ranging from psychiatry to botany, medical informatics to civil engineering. Cash prizes were awarded to the most creative, impactful and collaborative proposals.
Three prizes were awarded by faculty judges and WARF staff:
Naomi Biok (chemistry) – for examining how hydrophobic interactions of alpha peptides affect the process that provides proteins with their function – Cationic Modulation of Hydrophobic Interactions in Peptidic Systems in Bulk Solution
Ryan Clark (chemical and biological engineering) – for his work in guiding future metabolic engineering studies to be performed in more industrially relevant conditions where light is the only limiting substrate –  Light-Limited Growth of Cyanobacterial Cultures

Sarah Neuman (pharmaceutical sciences) for her work in understanding the effect of insulin secretion on growth in mutant animals with reduced body size – A Screen for Systemic Growth Regulators Reveals Hobbit, a Novel and Conserved Regulator of Insulin Secretion
Additionally, a peer prize was awarded to Qinjingwen Cao for Multifaceted Mass Spectrometric Analyses of Feeding-Related Metabolomic and Peptidomic Changes in the Rock Crab, Cancer Irroratus
"I had a lot of really good conversations. Since I'm graduating soon, it was great to find collaborators who are interested in carrying the work forward," says prizewinner Ryan Clark.
About WARF
The Wisconsin Alumni Research Foundation (WARF) helps steward the cycle of research, discovery, commercialization and investment for the University of Wisconsin–Madison. Founded in 1925 as an independent, nonprofit foundation, WARF manages more than 1,700 patents and an investment portfolio of $2.6 billion as it funds university research, obtains patents for campus discoveries and licenses inventions to industry. For more information, visit warf.org.
###