CONTACT:
Jeanan Yasiri Moe, Director of Strategic Communications
[email protected] | 608.960.9892
---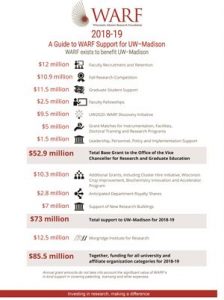 MADISON, Wis. – Capping a day devoted to advancing campus innovators, the Wisconsin Alumni Research Foundation (WARF) announced that it has granted the university $73 million for the 2018-19 academic year.
WARF also announced $12.5 million in grants to the Morgridge Institute for Research. Combined, WARF's investment in UW–Madison based research and education is approximately $85.5 million for 2018-19.
The grant figures were announced the same night as two research teams took home WARF Innovation Awards for their outstanding technological achievements. They included Lih-Sheng Turng and Haoyang Mi from the College of Engineering for their work on artificial vascular grafts that mimic native blood vessels and a second team made up of Melissa Skala and Alex Walsh from the Morgridge Institute for Research for their work on a non-invasive method to sort cancer immunotherapy cells.
An independent panel of judges selected the Innovation Award winners from a field of seven finalists drawn from approximately 400 invention disclosures submitted to WARF over the past 12 months. The winning inventions each receive an award of $10,000, with the funds going to the UW–Madison inventors named on the breakthroughs.
More information about all of the WARF Innovation Award winners and finalists can be located here.
"WARF exists to enable university researchers to turn the seeds of their ideas into groundbreaking discoveries that positively impact people around the world. Innovation is a Wisconsin tradition and we are proud to support it in multiple ways," said WARF Managing Director Erik Iverson. "The annual grant represents an investment in partnership. This work creates family-sustaining jobs in Wisconsin, grows the state's economy and provides revenue for the university."
The total grant includes $12 million for faculty recruitment and retention and $2.5 million for faculty fellowships. Another $11.5 million for graduate student support is part of the grant.
"This generous award from our partners at WARF is incredibly important to UW–Madison's continued success. It provides us with the flexibility we need to capitalize on new research opportunities, helps us recruit and retain key faculty, provides support for promising graduate students, and enhances our research infrastructure," said Chancellor Rebecca Blank. "In short, it gives us a margin of excellence and will help keep UW–Madison in the front ranks of American research universities."
Some $10.9 million is dedicated to the time-honored Fall Research Competition, which draws hundreds of research proposals from as many as 120 different academic departments each year.
In addition, $9.5 million has been allocated to the UW2020: WARF Discovery Initiative, which offers seed funding to advance some of the boldest and most prescient research on campus. The Discovery to Product (D2P) program is supported with $750,000; another $5 million provides grant matches for instrumentation, facilities, doctoral training and research programs.
"We are grateful for WARF's partnership and continuing investment in the research enterprise at UW–Madison," says Norman Drinkwater, UW–Madison's interim vice chancellor for research and graduate education. "WARF's annual grant provides critical resources for initiatives that make UW–Madison more competitive and leverages extramural grant funding, and supports the cycle of discovery and innovation to application that is the Wisconsin Idea."
WARF's support for the Morgridge Institute for Research continues, with an investment of $12.5 million. The private, nonprofit institute works to improve human health through interdisciplinary biomedical research in collaboration with UW–Madison.
"Thanks to the tremendous vision and support of WARF, the Morgridge Institute provides a competitive asset to UW–Madison that is unique to public research universities in the United States," said Brad Schwartz, chief executive officer of the Morgridge Institute. "We're proud to leverage our talent and our private, nonprofit status to enhance Wisconsin's leadership in basic biomedical research."
In support of interdisciplinary studies, $6 million is tagged for the university's cluster hire program (Endowment for Excellence). Some $2.5 million is provided in grants through the WARF Accelerator Program, $100,000 is allocated for Wisconsin crop improvement, and another $450,000 is committed to biochemistry innovation.
As in prior years, WARF's annual grant does not include the tens of millions of dollars in additional support WARF provides the university by covering the costs of patenting, licensing, commercialization and outreach activities. WARF's support of these services is a unique model in higher education as most universities around the nation must bear the cost of such expenses on their own.
Additional support is provided for WiCell and WiSys operations and Law/Business Entrepreneurship Clinics on campus, among others.
About WARF
The Wisconsin Alumni Research Foundation (WARF) helps steward the cycle of research, discovery, commercialization and investment for the University of Wisconsin–Madison. Founded in 1925 as an independent, nonprofit foundation, WARF manages more than 2,000 patents and an investment portfolio of $2.7 billion as it funds university research, obtains patents for campus discoveries and licenses inventions to industry. For more information, visit warf.org and view WARF's Cycle of Innovation.
###