CONTACTS:
Jeanan Yasiri Moe
Director of Strategic Communications, Wisconsin Alumni Research Foundation
[email protected] | 608.960.9892
Leef Smith Barnes
Chief Marketing Officer, AUTM
[email protected] | 703.870.4895
---
MADISON, Wis. – Carl Gulbrandsen, former managing director of WARF, has been honored with the Bayh-Dole Award by AUTM, an international nonprofit supporting the commercialization of academic research, moving innovations from lab to marketplace.
The award is given in recognition of the recipient's efforts to foster and promote intellectual property activities on behalf of the university and nonprofit community.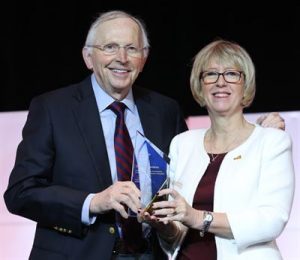 Gulbrandsen led WARF from 2000 to 2016. During that time, WARF was a consistent advocate of strong federal patenting rights, helped shape stem cell policy, brought new therapeutics to market and increased investment in the University of Wisconsin-Madison.
The Bayh-Dole Act of 1980 permits universities that receive federal funding, businesses or nonprofit organizations to elect to pursue ownership of an invention, rather than obligating inventors to assign inventions to the federal government.
The Act is widely recognized for promoting innovation and establishing the tech transfer industry. Decades after enactment, the law continued to be championed by Gulbrandsen and the late Howard Bremer, WARF's longtime patent counsel.
Through Bremer, Gulbrandsen was introduced to Joe Allen, the professional staffer to former Senator Birch Bayh (D-IN), who was instrumental in the successful passage of the legislation.
"There are very few of us in technology transfer with the experience and dedication to the profession as Carl," AUTM Chair Alison Campbell told attendees at the AUTM 2019 Annual Meeting in Austin where the award was presented. "It is right and fitting that we honor him with this award as a thank you for his tireless efforts to ensure that tech transfer remains strong and vibrant."
In his acceptance speech, Gulbrandsen noted that the Bayh-Dole Act enables the movement of technology from universities to companies and to humankind in a fair way. In addition, it has served as a global model.
Gulbrandsen said, "The importance and success of Bayh-Dole has also caused a number of other countries to adopt their version of the Bayh-Dole Act." He also lauded AUTM for its efforts to educate and advocate on the importance of technology transfer.
In 2008 another WARF staff member, Andy Cohn, was the recipient of the Bayh-Dole Award.
About WARF
The Wisconsin Alumni Research Foundation (WARF) helps steward the cycle of research, discovery, commercialization and investment for the University of Wisconsin-Madison. Founded in 1925 as an independent, nonprofit foundation, WARF manages more than 1,900 patents and an investment portfolio of $2.7 billion as it funds university research, obtains patents for campus discoveries and licenses inventions to industry. For more information, visit warf.org and view WARF's Cycle of Innovation.
About AUTM
AUTM is the nonprofit leader in efforts to educate, promote and inspire professionals, throughout their careers, to support the development of academic research that changes the world. AUTM's community is comprised of more than 3,000 members who work in more than 800 universities, research centers, hospitals, businesses and government organizations around the globe. To learn more, visit AUTM.net.
###