New bone building formula paints brighter picture for surgical implant patients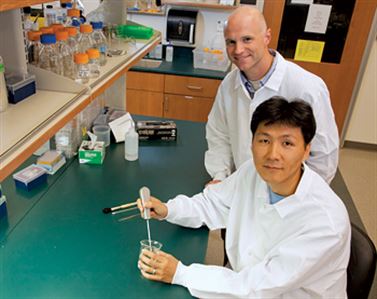 More than half of all chronic conditions in adults over age 50 are related to bone and joint diseases.
As a result, joint replacement surgeries are on the rise — last year about 200,000 hip replacement and 300,000 knee replacement surgeries were performed. Unfortunately, these procedures may result in bone-implant connections that don't heal properly, ultimately leading to implant failure and revision surgery. This of course creates additional stress and pain for patients while driving up the cost of health care by billions of dollars.
Surgeons may soon be able to reverse these negative outcomes through use of a new modular peptide growth factor, a bone building mixture featuring short threads of amino acids that can bind to implants and locally stimulate new bone growth. Animal studies show the unique, biologically active molecule in the formula improves bonding between orthopedic implants and bone and actually accelerates healing at the repair site, thereby reducing the serious side effects that often result in implant failure.
Researchers led by William L. Murphy, associate professor of biomedical engineering and orthopedics and associate director of the University of Wisconsin Stem Cell and Regenerative Medicine Center, inserted two key components into the modular peptide structure: a biologically active growth factor for stimulating bone growth and a binding factor for strengthening the bond between the peptide molecule and the hydroxyapatite coatings on the implants.
Murphy was surprised by how quickly and strongly the modular peptide molecules attached to implants and bone tissue and stimulated new bone formation.
"The level of control that an orthopedic surgeon will have when using these biologically active molecules will be important," says Murphy. "For example, the peptides can 'activate' a variety of implants, ranging from natural bone grafts to metal hip prosthetics. They can also be applied in the operating room by simply 'dip-coating' or 'painting' the surface of an implant with a peptide solution."
Future applications for these unique biomaterials include implant surgeries, bone grafts, bone regeneration, spinal fusion, dental augmentation and non-union fracture healing.
"We will continue to work on demonstrating how these molecules can target, accelerate and improve implant-bone healing in scenarios that are especially challenging," adds Murphy. "One particular focus will be on showing that these molecules are effective in helping particular bone defects that are known for not healing well. Examples include large bone defects that result from trauma, or fibrous tissue gaps that are similar to the aseptic loosening that can happen with total joint implants."