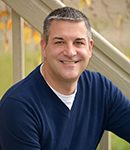 Welcome to our winter 2020/21 edition of the Accelerator Pipeline. Although we are still in the middle of the COVID-19 pandemic, our project teams continue to make significant progress in advancing their technologies closer to commercialization. I appreciate our UW-Madison faculty, students and staff's resolve and flexibility to keep pushing their projects Forward. I also want to acknowledge the fantastic support we continue to receive from our industry partners and Catalysts.
As many of you know, I am a big believer in the power of random "collisions" in the commercialization of new technologies. The virtual world has made accidental collisions more difficult, but we continue to innovate across several platforms to make meaningful connections that support our projects. For example, we transitioned our signature fall event, WARF Innovation Day, into a virtual one-hour program that combined produced content with our innovators' live engagement. The event, including four quick pitches, special guests and a moderated Q&A session, can now be found on our website. I encourage you to check it out. Thank you to the nearly 300 participants from six countries who made our first all-virtual WARF Innovation Day a success.
Finally, I want to acknowledge the retirement of Gordon Brunner from the WARF Board of Trustees. Gordon was instrumental in establishing several of the organization's technology commercialization programs, including WARF Accelerator. His vision, experience and leadership were essential in creating WARF Accelerator more than 10 years ago as a novel approach to commercializing promising UW technologies. WARF Accelerator has supported more than 130 projects during his tenure, resulting in 46 revenue-generating agreements and 18 startups. We can best see Gordon's fingerprints on Accelerator in the Catalyst program, our growing network of more than 50 industry experts who advise and mentor project teams. To date, the Catalysts have helped more than 300 project participants, including faculty, students and staff.
I would like to personally thank Gordon for his 20 years of steadfast leadership in technology commercialization at WARF. He has been a devoted advocate for technology commercialization, a valued partner with the campus and a mentor to many of us at WARF. I will truly miss Gordon's passion for UW technology, and I am grateful for his unwavering support for me and WARF Accelerator.
From all of us at WARF Accelerator, including all our project teams and participants: Thank you, Gordon! We wish you all the best and look forward to seeing you back on campus.
On, Wisconsin!
Greg Keenan
[email protected]