MadPrompts Generative AI Battle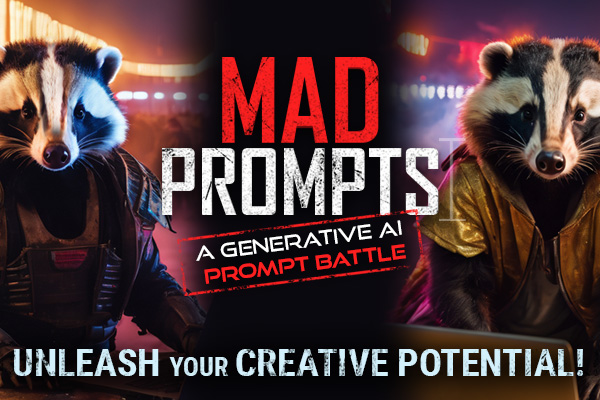 November 29 @ 6:00 pm

-

8:00 pm
Join us for an exhilarating evening of wit, artistry and prompt engineering at the MadPrompts event, presented by WARF and the Data Science Institute, in association with the Department of Computer Science! This epic prompt battle is set to take place at the heart of UW-Madison's campus in the vibrant Discovery Building's H.F. DeLuca Forum.
MadPrompts is not just an event; it's a mesmerizing game show-style competition where talented contestants engage in a creative showdown. They race against the clock to craft the most captivating image inspired by a mysterious meta prompt, engineered by the power of AI. The fusion of art and technology promises to be nothing short of extraordinary!
What to Expect:
🤖 Prompt Engineering: Explore the convergence of AI and art as the meta prompts challenge contestants' imagination and technical prowess.
🎨 Ingenious Artistry: Witness the birth of stunning visual creations as contestants transform AI-generated prompts into awe-inspiring images.
🗳️ Audience Influence: YOU have a say in the outcome! Cast your votes to help determine the winners alongside our esteemed panel of judges.
🏆 Glorious Prizes: Discover who will be crowned the champions and take home cash prizes.
Get your tickets early, as seating is limited. Don't miss your chance to witness the creative brilliance of UW-Madison's finest talents at MadPrompts.
Ticket Information:
🎫 General Admission: FREE
Tickets are available for walk-ins at the door, and they're absolutely FREE! However, we encourage you to RSVP in advance to ensure you don't miss out on this fantastic event.
For more information, reach out at [email protected].
The original Prompt Battle was developed at HTW Dresden by Sebastian Schmieg, Florian A. Schmidt, Bernadette Geiger, Robert Hellwig, Emily Krause, Levi Stein, Lina Schwarzenberg and Ella Zickerick.
Apply here by October 31 to be considered for the competition! Note: only UW-Madison students, staff, and faculty can be considered for the competition.
Related Events