A UW graduate student laid the foundation that led UW leaders Brian Fox, chair of biochemistry, and Jorge Osorio, director of the Global Health Institute, to join WARF CEO Erik Iverson to explore joint academic and research opportunities in South Africa
Pictured above: Jorge Osorio; Bill Checovich, Illumina; Linda-Gail Bekker, Institute of Infectious Disease and Molecular Medicine; Erik Iverson; Brian Fox
As the pandemic rolled out in 2020, Liz Appelt, a UW-Madison chemical and biological engineering doctoral candidate, was looking for a practicum experience. She was part of the UW biotechnology training grant, sponsored by the National Institutes of Health (NIH), that gives trainees the opportunity to select an internship within industry.
In considering her options, Appelt recalled a presentation in her biotechnology seminar by Wisconsin Alumni Research Foundation CEO Erik Iverson, who spoke about a biotech company he co-founded in South Africa. After contacting Iverson to learn more, Appelt was able to organize an internship at Afrigen Biologics Vaccines, a Cape Town, South Africa-based biotech company. Afrigen performs product development, bulk manufacturing and supply and distribution of key biologics to address unmet health care needs. It also holds the distinction of being the first biotech startup on the African continent, and recent designee as the hub of mRNA vaccines for Africa by the World Health Organization (WHO).
More Than an Internship
Appelt reached Cape Town in June 2022. The WHO had just provided the designation and funding to Afrigen to be the hub of an international consortium of organizations making the COVID vaccine more accessible.
"When they received the WHO designation, they had to do a rapid ramp up to become a GMP (good manufacturing practice) facility for manufacturing these vaccines," says Appelt. "They also had to kind of reinvent the mRNA vaccine and, in parallel, build up the manufacturing side of things. I was there when they were doing the research and development along with building the manufacturing platform."
At Afrigen, Appelt was more than a visiting scholar. She brought experience from working with a California biotech in analytical development, which was precisely what Afrigen needed with their new designation. "I think I provided expertise that the people on the Afrigen team didn't have, just because they weren't coming from an analytical background like I was," says Appelt. "I think, hopefully, I was helpful."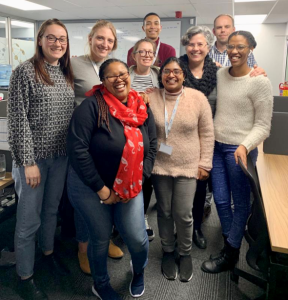 Appelt was able to participate in physically getting the GMP facility ready and eventually took part in the visits from the South African Health Authority and the WHO as they toured the facility checking for readiness in vaccine development. It was the kind of transformative experience that only the combination of a world health crisis and excellent networking can provide.
"Global health has always been really important to me," says Appelt. "I'm so interested in global health and collaborative science and being on-site at Afrigen was the absolute perfect opportunity for me. The WHO designation made Afrigen a training site for all the other partner organizations in the consortium. There were people from all over the world coming to Afrigen. The experience reinforced for me the necessity of collaboration."
Appelt returned from her experience at Afrigen in September 2022 and shared her story with Biochemistry Department Chair Brian Fox and other students in the biotechnology program. It prompted Fox to consider how to develop a regular relationship with Afrigen and other related organizations in South Africa to facilitate more opportunities for UW students.
Afrigen's Wisconsin ties start with Erik Iverson, who co-founded Afrigen before joining WARF. The successful startup now employs 150 people. Now, with Appelt's experience working with Afrigen, the ties expand into UW's biotechnology training program as well.
Introducing Friends in the Name of Improving the World
As someone who is quick to draw connections between potential partners, in spring 2023 Iverson suggested to Fox a trip to South Africa to meet the principals at Afrigen as well as other research university colleagues in the area. Joining Fox and Iverson on the trip was Professor Jorge Osorio, director of the UW Global Health Institute (GHI). An entrepreneur, Osorio is also CEO of VaxThera, a vaccine institute based in Columbia. He has patented the vaccines developed from his research through WARF.
"I tend to go on these trips with a sense of, 'let's find out what's possible,'" says Iverson. "There's something there because I know the area well enough. It's not a cold call, but it is, 'we are going to go down there, we're going to have conversations about how we can work together.'"
The trip took place in April and within two and a half days, a proposed joint Ph.D. program was conceived between UW Biochemistry and Stellenbosch University, both public universities seeking exchange experiences for their students and faculty.
In comparing notes, the new friends came to understand that joint Ph.D. programs between Stellenbosch University and Oxford as well as universities in Germany were already developed. The Wisconsin crew asked, "Can you try the same with UW?" The question was met with enthusiastic willingness to work out the details.
"I was utterly impressed with the people and research we were introduced to in South Africa," says Fox. "There is a high level of technological sophistication there. Meeting the people and seeing firsthand their world class research capabilities changed my whole view of what the interactions could be between UW-Madison and South African universities. It is remarkable to think of an international network. Creating a shared vision and training where people can go back and forth between institutions would be terrific."
The trip also included a visit to the Desmond Tutu Health Foundation and HIV clinic, where Osorio immediately saw opportunities for GHI to integrate their One Health Institute.
"The foundation of GHI is embracing a global health ethic that fosters deeper understanding of the complex determinants of health and disease for people, animals and ecosystems," says Osorio. "Our relationship with WARF and Erik positively enhances our vision to proactively link UW-Madison's multidisciplinary talent and expertise with academia, government, NGOs, health officials and industry partners. With opportunities to meet, learn and collaborate with organizations like Afrigen and the Desmond Tutu Health Foundation, GHI is able to develop and facilitate more global health programs and initiatives for UW undergraduate, graduate and postdoctoral students, and expand our network for researchers to exchange health information and create innovative solutions to global health challenges."
Iverson returned to Madison reminded that the world's a pretty small place. "Phenomenal science and product development are happening everywhere, and the university and WARF have a role to play in that," he says. "Brian and Jorge learned that joint programs can be created while meeting new friends and collaboratively hatching fresh ideas thousands of miles from home. For any of us, it's just a matter of getting out and meeting people and exploring the possibilities. I know this because it happened, and we were on the ground for just two and a half days."
Iverson goes on to encourage, "If you think WARF can help open a door for you – whether it is your department, your lab or on behalf of your students, please reach out and let us know. We love introducing friends to one another."
Liz Appelt is nearing completion of her Ph.D. at UW and reflecting on the value new friends and scientific connections can bring.
"I can't endorse these kind of collaborative partnerships enough," says Appelt. "So much of R&D is niche, and there is so much to be gained by meeting with a collaborator face-to-face. I met some amazing scientists and engineers in South Africa. I learned a lot from them, and I hope they learned a lot from me. I feel like we could all benefit globally from just being more open to these types of collaborations moving forward."
###