2.27.19 | UW-Madison News | David Tenenbaum | Original Publication
As it nears its 100th birthday, WARF — the Wisconsin Alumni Research Foundation, the nation's first university technology transfer office — is embarking on a bold program to modernize what it has done so well, and so profitably, in past decades: advance basic discoveries from campus to the clinic and the patient.
WARF Therapeutics, unveiled last week at a meeting on campus, will help UW-Madison investigators deal with a difficult reality: Pharmaceutical companies are reluctant to license newly discovered biological entities (more commonly called "targets"), such as proteins or genes, that are instrumental in disease.
These targets, says Jon Young, head of WARF Therapeutics, are "nature," and so not patentable. Instead, pharma needs unique molecules that can be protected by patents.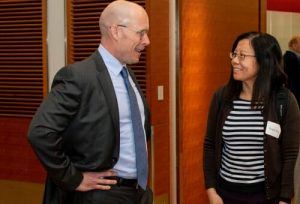 Jon Young, director of WARF Therapeutics, chats with associate professor of oncology Yongna Xing at the Discover building on the UW-Madison campus Thursday, Feb. 21. PHOTO CREDIT: WARF
And while getting and licensing patents has been WARF's stock-in-trade since the start, the steps needed to get patents, prove that a particular chemical has therapeutic potential, and earn Food and Drug Administration approval, have all gotten more complex, lengthy and expensive.
"We are building a preclinical drug discovery organization," says Young, who has worked in drug development at Merck Research Laboratories, Regulus Therapeutics and Celgene. "We have experience in navigating the preclinical space, working collaboratively with PIs (principal investigators) to do the screening and investments in medicinal chemistry, moving from novel hits on the target to early leads and clinical candidates."
WARF Therapeutics will engage in "de-risking" particular disease targets, ensuring that they are substantially validated in terms of accuracy and reliability. De-risking is necessary, Young says, due to the sobering realities of drug discovery and development. Only one in 100 targets discovered in a university lab evolves into an FDA-approved drug. Federal research grants seldom pay for work beyond the initial discovery. And each approved drug costs $1.5 to $2.5 billion, when the cost of failures is factored in.
The new approach, Young acknowledges, is not for every biological investigator on campus. "Universities are cultures built on openness, and academic advancement depends on publication. But the reality is that things are already changing.
"Pharma has long acknowledged that academia is better suited for basic biological discovery. They have turned to scientific literature for disclosures of biological discoveries. That means that great targets were being put into the public domain for free, and all the potential monetary value for academia and the PI left when pharma read the paper and started doing drug discovery on the new target. What we are trying to do is share in the real value that is initiated in academia."
In encouraging a switch from "publish or perish," to "patent then publish," Young is trying to "build and foster a drug discovery culture on campus, to bring in more people to do science that translates from the bench to the bedside, and get people excited about carrying their discoveries toward the clinic, toward the patient.
"If we do our job, we will create a lot of new opportunities in the future. If we have five ideas today, but we have 50 in eight or 10 years, that will be success for WARF Therapeutics."
Young prides himself on being approachable. "Pick up the phone or send me an email. Let's talk — no paperwork — and see whether we can do something together."
WARF is an independent organization founded in 1925 to patent and license Professor Harry Steenbock's method to supplement milk with vitamin D, which earned more than $200 million. Another $150 million or so came for Warfarin, a blood thinner used in medicine and as rat poison. Vitamin D patents from Professor Hector DeLuca earned more than $500 million in royalties. Last year, WARF provided more than $100 million to UW-Madison to support faculty salaries, buildings, and a wide variety of programs.
WARF Therapeutics will be structured around the multiple stages of drug discovery and development, Young says. "At each stage, we are going to invest in a set of experiments to determine whether the project has enough promise." The experiments will be done wherever the capabilities exist.
"We are not going to build labs; this will be a virtual organization. Many experiments can be done in the amazing scientific infrastructure on campus, but we are also putting together off-campus strategic partners that can do end-to-end development."
Projects will have predetermined "go/no-go" checkpoints, Young adds. "We have to be disciplined, to accept that some things are going to work, and others are not. Not every program is going to produce positive data; that's normal.
"Those that don't work are not failures. To me, failure is ignoring what the data tell you, and investing blindly. We have to take the passion out, follow the data, follow the science."
The value of projects soars as they move beyond target discovery toward "drug-like molecules" that then begin to prove themselves in early animal trials, Young says.
"You can see this again and again when startups license or sell their work. Pharma is willing to make an investment in a de-risked, protected chemical asset.
"The goal of WARF Therapeutics is to bring new molecules forward to treat patients with unmet needs. If we do that, the revenue will follow, and flow back into the university, and that's the fastest route to helping patients — indeed, it's about the only route."