CONTACT:
Jeanan Yasiri Moe, Director of Strategic Communications
[email protected] | 608.960.9892
---
Partners gather to learn and launch major new drug discovery initiative at the University of Wisconsin-Madison
MADISON, Wis. – WARF Therapeutics, a new initiative charged with bridging the commercial "valley of death" to move much-needed pharmaceuticals closer to patients, has officially launched. More than one hundred researchers, faculty, staff and students gathered at the Discovery Building for the event on Feb. 21.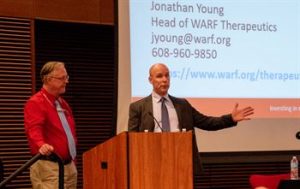 "Every good collaboration starts with a conversation," said Jonathan Young, an industry veteran who was hired in 2018 to build and lead WARF Therapeutics. "Drug discovery is a team sport."
He said, "By building drug discovery and optimization capabilities adjacent to the world class scientists at UW, we will be in a unique position to identify the best novel-target opportunities and initiate programs early on."
"Our end goal is to improve health outcomes," said Allan Brasier, executive director of the Institute for Clinical and Translational Research (ICTR). "UW-Madison has many resources that can help campus researchers along the drug discovery and development pipeline."
Presentations by Young and Brasier were followed by a panel discussion featuring campus researchers with deep pharma development experience.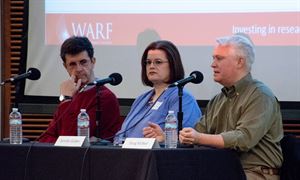 Prof. Luigi Puglielli (School of Medicine and Public Health) noted the devastating toll of neurodegeneration on patients and families. Doug McNeel (SMPH), professor and scientific founder of Madison Vaccines Inc., described balancing his interests in the clinic and in the lab. He said, "I work as an MD one day a week. That influences what I do as a Ph.D. the other four days."
Jennifer Golden (School of Pharmacy; Medicinal Chemistry Center) underscored collaboration. "Getting things across the plain to clinical trials is going to take a robust effort," she said. "The better teams we can build, the more resources we can bring in, the better off we are going to be."
About WARF Therapeutics
Consistent with WARF's mission to support UW-Madison research and make a global impact, WARF Therapeutics is a major initiative to move new pharmaceuticals closer to market. The program will take select assets and lead them through preclinical development, towards commercialization and the benefit of human lives. More at warf.org/therapeutics.
About WARF
The Wisconsin Alumni Research Foundation (WARF) helps steward the cycle of research, discovery, commercialization and investment for the University of Wisconsin-Madison. Founded in 1925 as an independent, nonprofit foundation, WARF manages more than 2,000 patents and an investment portfolio of $2.7 billion as it funds university research, obtains patents for campus discoveries and licenses inventions to industry. For more information, visit warf.org and view WARF's Cycle of Innovation.
###