UW-Madison's "Vicar of Vegetables" on harvest, hubris and a beet born to be raw
It has starred in Forbes and stormed Austin, Texas. It even charmed a wary podcaster.
It is the Badger Flame beet, a charismatic vegetable with pyrotechnic color and breakthrough flavor. It took UW–Madison breeders 15 seasons to create.
In contrast to the high-tech ethos of fail early/fail often, horticulture is "the slowest of the performing arts," muses Irwin Goldman.
Prof. Goldman, a plant breeder and geneticist, is a celebrated figure in UW–Madison Horticulture. His team has produced a veritable cornucopia – novel carrot lines, onion and table beet varieties – all crafted through decades of love and labor using traditional breeding techniques.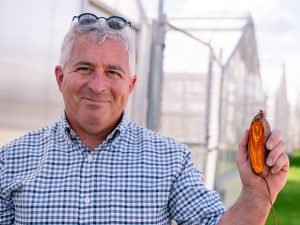 Goldman works with WARF to protect and commercialize high potential creations like Badger Flame. Other innovations he releases into the world through the Open Source Seed Initiative, which he helped found.
The relationship between intellectual property and crops is a unique one, he observes. Historically, an open access tradition governed horticulture.
"Let's say you had an apple tree in your backyard and there was a mutation with a new apple on it, You'd share cuttings with your neighbors and that was the ethic," explains Goldman. "I know that the world doesn't work that way anymore. And I know that the universities have all looked for ways to capture the value of the work of the students and the faculty."
Interestingly, in its near 100-year history, WARF did not begin commercializing germplasm until the mid-1990s. For Goldman, who joined the faculty in 1992, it has been an edifying journey for all involved.
"WARF was learning about how to get into this business and so was I. In many ways, I feel we've learned together over the years. It's just been wonderful," Goldman says. His program currently has over 75 active germplasm licenses.
Back in the greenhouse on the west end of campus, a spray of Badger Flame beets resembles Lady Liberty's torch. But their flashy hue belies a subtler, more extraordinary characteristic. Like carrots or jicama sticks, these beets are designed to be relished raw.
Diminished is the earthy aftertaste that has deterred generations of children (and adults) from beets. Through many cycles of breeding, Goldman and colleague Nick Breitbach sought to down-select stringency and a compound called geosmin – which makes some vegetables taste a bit like soil. (Geosmin is the same molecule behind the scent of freshly plowed fields.)
Long associated with borscht and other 'peasant' fare, Eastern European immigrants brought beets to North America in the 19th century.
Goldman says the beet renaissance began some 25 years ago, powered by Martha Stewart's renewed interest in the neglected vegetable. Suddenly, beets began headlining Gourmet magazine and Bon Appétit.
Deservedly. Beets are a powerhouse of vitamins A and C, fiber and folate.
Goldman, who acknowledges a certain "hubris" in horticulture, hopes that his eminently accessible variety wins over the holdouts. Badger Flame seeds are available to gardeners and farmers through a specialty seed company called Row 7, founded by award-winning chef Dan Barber. They are also sold by High Mowing, a seed company based in Vermont.
The Badger Flame series of beets is emblematic of a long tradition of Wisconsin crop research ending up on dinner tables. In fact, it was Goldman's predecessor, Buck Gabelman, bringing to bear the tools of modern plant genetics, who created what became the parents of all the beet varieties now grown.
From Poland to Australia, "the seed went all over the world, and everybody used that material as the parents to make the hybrids that are grown today," says Goldman.
Goldman, the nation's only university-based plant breeder of table beets, describes himself as the "current steward" of the beet. "I'm curating this variation and essentially preserving it, cataloging it, securing it for whatever happens in the future."
The future. Time has a special significant to plant breeders – the passage of seasons, the passing generations of students, the budding pace of progress.
During the COVID-19 pandemic, the field has been a sanctuary of sorts for Goldman.
"It's beautiful and so joyful to be connected to the harvest. When it goes on, you just feel there's some normalcy out there."